Back to top: Page layout: an overview
Introduction
To be able to "read" a UGR digital book requires a certain familiarity with its structure, although the intent has been to make access to the browser edition as transparent as possible.
Back to top: Page layout: an overview
The basic layout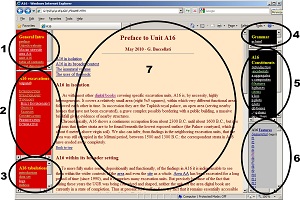 One will find a detailed explanation of the page layout in the Mozan Sitewide digital book.
An explanation of the broader concept of a digital publication in the Urkesh Global Record section of the Urkesh website, and a discussion of the even wider implications of digital thought in the corresponding digital monograph of the Methodology section of the Urkesh website.
Briefly:
The general introduction (where the current Preface is located).
A discursive section on the excavations, using for the most part concepts and language current in the discipline.
Tabulations which correspond as well to standard categories.
A gateway to the Grammar which underlies the treatment of the data given in 4 and 5.
The roster of the constituents in the current book.
The complete list of elements for each of the contituents listed in 5.
Both the left and the right hand side vertical bars (in red and black respectively) open links to the main frame in the center, where the data are displayed.
Back to top: Page layout: an overview