E-LIBRARY / PROJECT PRESENTATIONS / 917.htm
G. Buccellati, 2002–2010.
L. Recht, 2013–2017.
M. De Pietri, 2018–.
.
Posters
Listed below are posters created by staff members about various aspects of our excavations.
The posters are listed in chronological order, and you may go to any of the following dates:


---
2007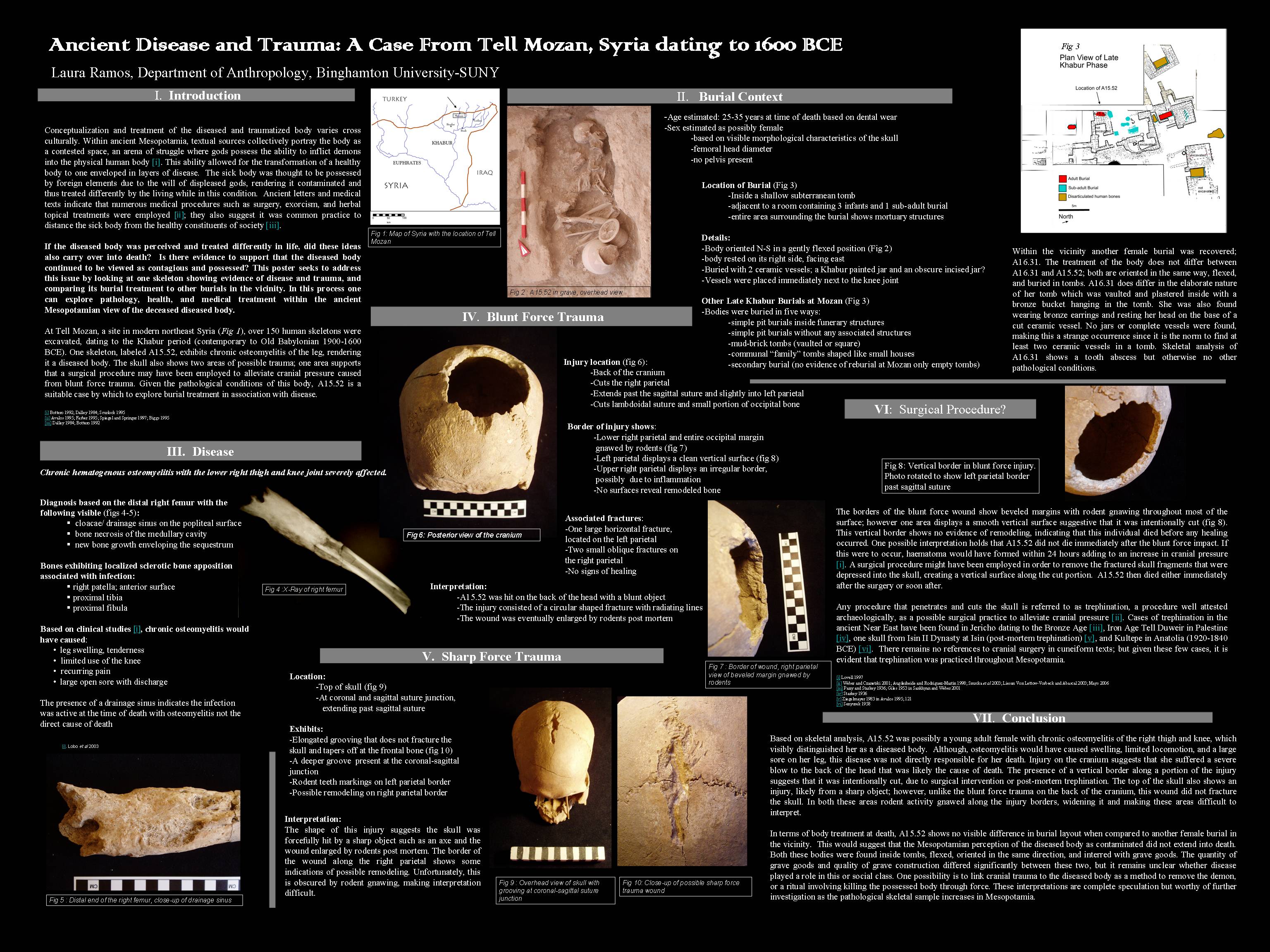 Laura Ramos
Ancient Disease and Trauma: A Case from Tell Mozan, Syria Dating to 1600 BCE
AAPA
---
2010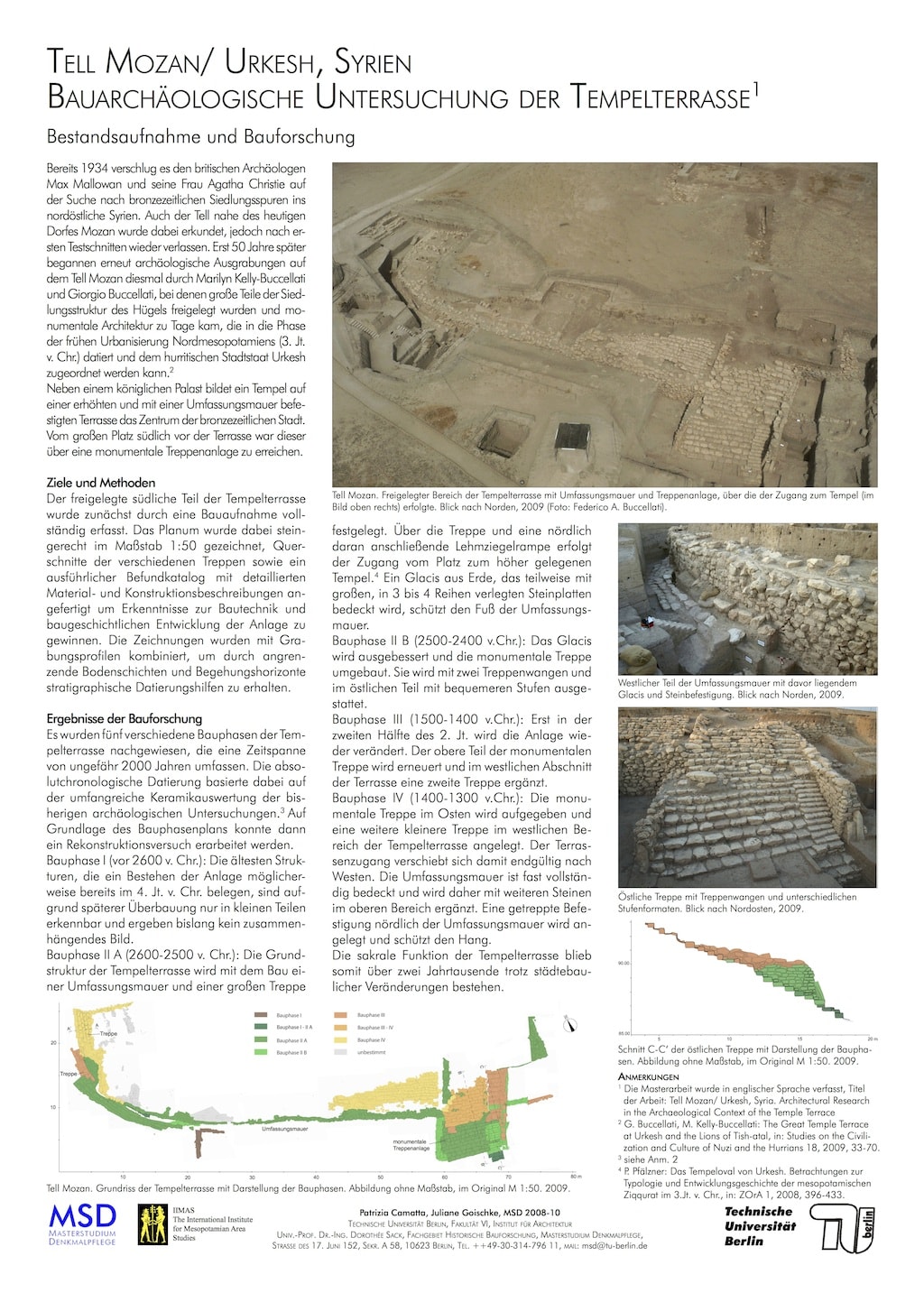 Patrizia Camatta and Juliane Goischke
Tell Mozan/Urkesh, Syrien: Bauarchäologische Untersuchung der Tempelterrasse
Masterstudium Denkmalpflege an der TU Berlin, Heft 6, Dorothée Sack et al. (eds.)
---
2012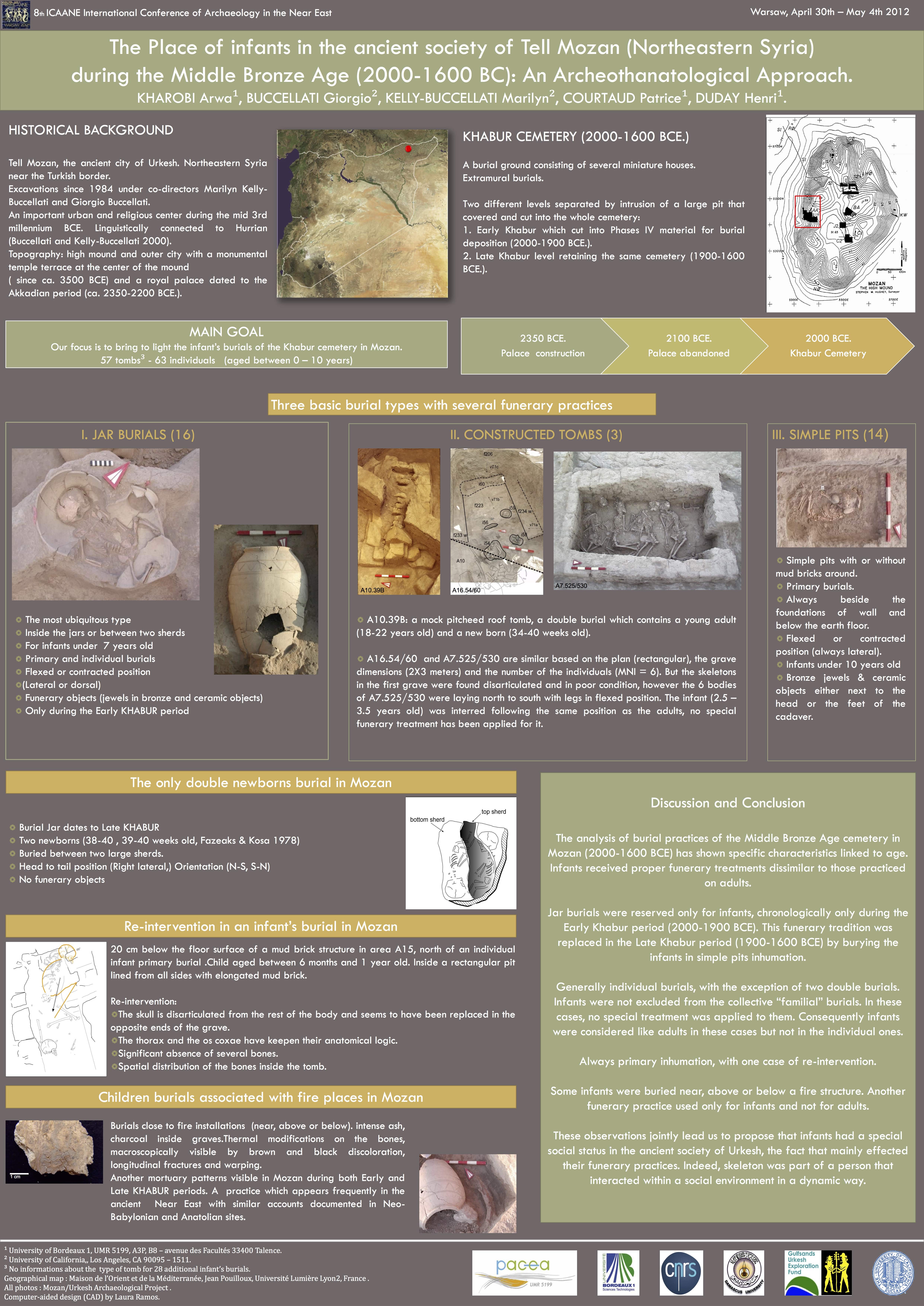 Arwa Kharobi, Giorgio Buccellati, Marilyn Kelly-Buccellati, Patrice Courtaud and Henri Duday
The Place of infants in the ancient society of Tell Mozan (Northeastern Syria) during the Middle Bronze Age (2000-1600 BC): An Archeothanatological Approach
8th ICAANE International Conference of Archaeology in the Near East, Warsaw, 30 April - 4 May 2012.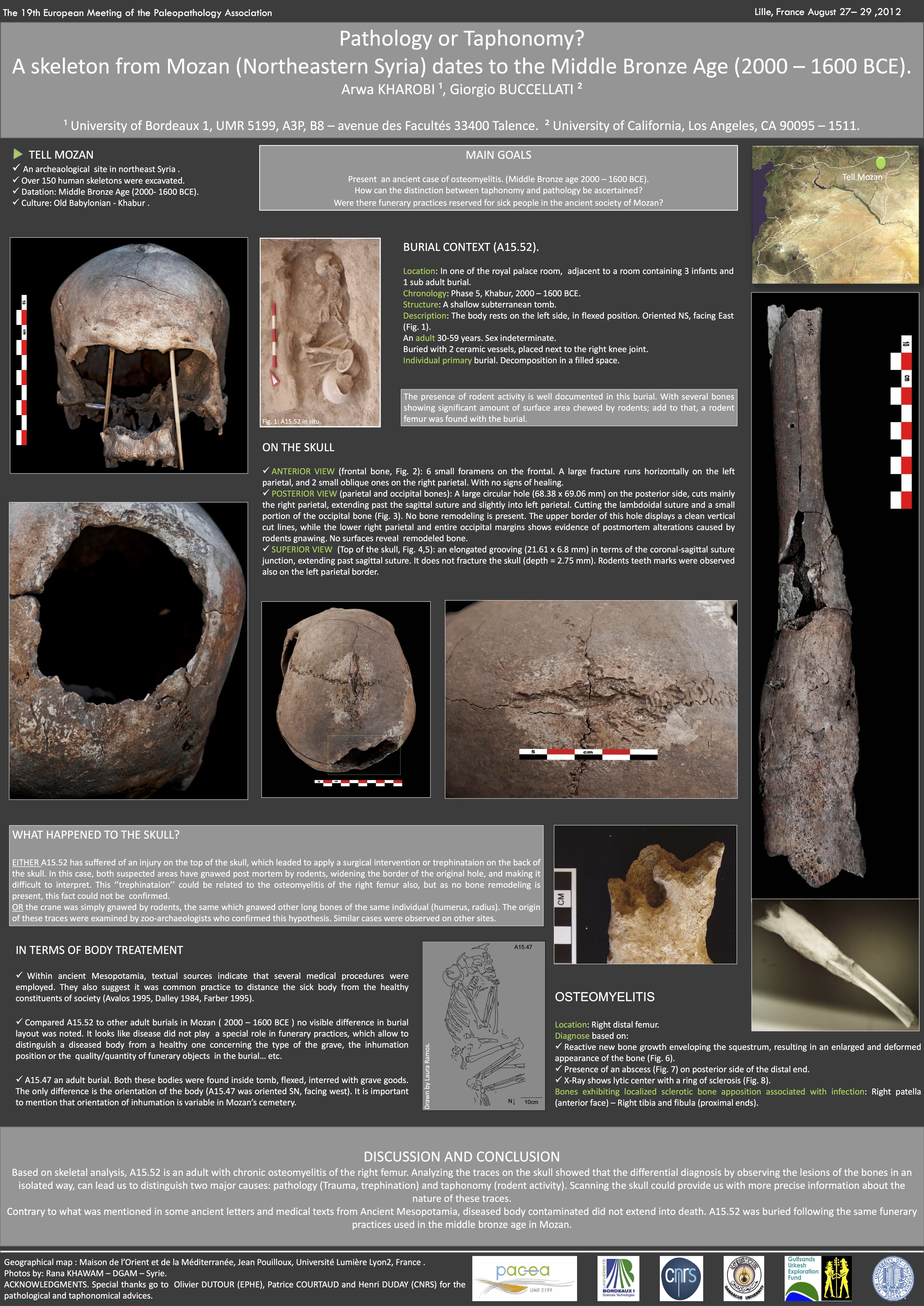 Arwa Kharobi and Giorgio Buccellati
Pathology or Taphonomy? A skeleton from Mozan (Northeastern Syria) dates to the Middle Bronze Age (2000-160 BCE)
19th European Meeting of the Pathology Association, Lille, France, 27-29 August 2012.
---
2017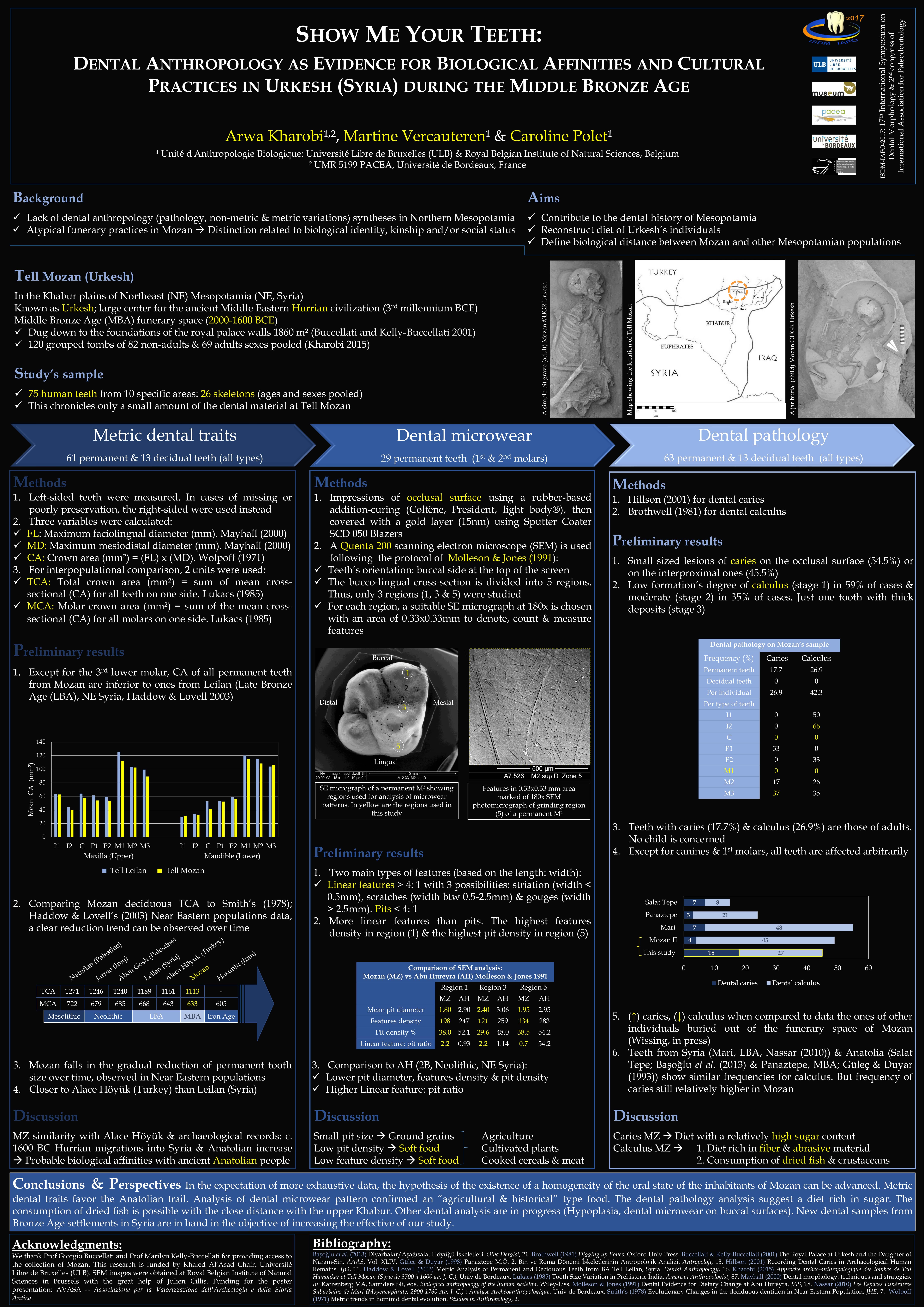 Arwa Kharobi, Martine Vercauteren, Caroline Polet
Dental Anthropology as Evidence for Biological Affinities and Cultural Practices in Urkesh (Syria) During the Middle Bronze Age
Kharobi et al. 2017 ISDM
---
Forthcoming
Patrizia Camatta
Die Tempelterrasse von Tell Mozan/Urkesh (Syrien). Architektur, Typologie und Vergleichsanalyse
Jahrbuch Masterstudiengang Denkmalpflege 2012-14, Dorothée Sack (ed.), 2014