SITE PRESENTATION \ 237-Palace
1: G. Buccellati, October 2007
---
A chapter of the digital monograph: Site Presentation
---
The Temple "panorama"
Signpost
The kiosk setup
The plates
A look through time
The perception of space
---

Signpost (PDF 126K)

After the descent to the level of the Plaza, we climb an artificial knoll to gain a panoramic view of the Temple Terrace, with the monumental staircase to the right and the Temple in the background.

---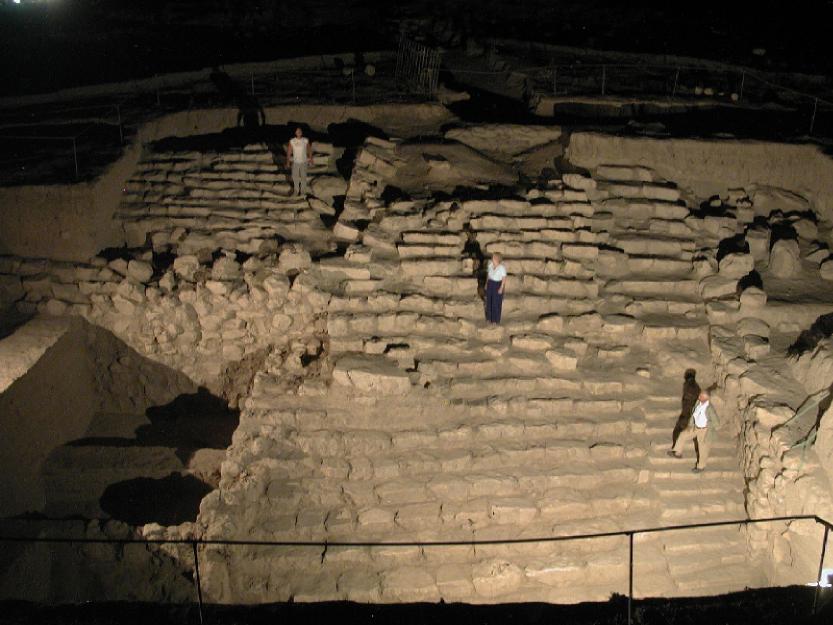 At both the Temple and the Palace we have installed a lighting system (in function only when the Expedition is present) that highlights the architecture and allows for evening visits. In the photo below, a night view (from the kiosk) of the monumental staircase.
---
Back to top
The plates
As the picture at the top shows, the plates within the case are arranged so as to develop a separate narrative, which is divided into two sections. For each section, you may open a PDF file with all the relevant plates, which are also shown as individual thumbnails.
Back to top

1. A look through time (PDF 470K) deals with the chronological question: the Temple Terrace lasted for one, and possibly, two millennia as a continuously revered sacred space, which guaranteed its preservation with hardly any major change and no damage of any sort.
Back to top

2. The perception of space (PDF 395K) helps the visitor to develop a sense of identity with the past perceptions of a sacred space, seen once again in its monumentality and against the background of a pristine landscape.
Back to top